MAST Ocean To You (O2U) Training Program
SEA-I-GO Mobility
What is SEA I GO?
As part of our commitment to support the Center of Excellent specifically "The South East Asian Networking Initiative in Geoinformation and Ocean Sciences (SEA I GO)" who is aiming at the endorsement and arrangement of undergraduate student mobility and industry exposure across the SE Asian region by means of existing and developed network of academics of the participating universities and countries. SEA I GO has been initiated since mid of 2011 and came into an intensified commitment between ITB Bandung (Indonesia), UiTM Shah Alam (Malaysia) , VNU Ho Chi Minh (Vietnam) since early 2012.
SEA I GO Program : We intend to facilitate networking and arrangement for students who plan to carry out internship and/or undergraduate research (for the writing of undergraduate thesis). The supervision will be composed by domestic and overseas' counterpart academics, as well as representative of the respected company. Through SEA I GO network, the program might provide materials and specific tools for the internship and/or research, as well as domestic transport and accommodation as non- compulsory offers. As SEA I GO does not provide full financial support for the activity, students participating in this program are requested to cover international flights and daily/routine expenses to and fro Kuala Lumpur (e.g. meals, local transports) on their own.
The scheduled of implementation for the year 2013 is to accommodate between two and four students from the undergraduate program at the Geodesy and Geomatics Engineering to carry out either internship or undergraduate research with MAST under the supervision of relevant ITB and UiTM academics. In case of internship program, students will follow direct assignment given by authorized company representative. For undergraduate research program, the topic will be related to processing, visualization, analysis and synthesis of ocean geospatial data for the generation of ocean geospatial informatio
To avoid complicated and/or bureaucratic procedures. If you are interested in learning further on how this opportunity might be useful for you and your future career, please feel free contact us. We would expect that you are confident with your academic record, looking forward to experience the other segment of the SE Asian region, and prepared for entering an international atmosphere. Fluency in English (oral and written), sound knowledge in statistical analyses and skill in programming or technical computing are beneficial for accomplishing your technical mission. For further details regarding this call for application, please email to zainul.ghazali@mast.com.my.
click image for more information
Offshore Surveying Training Program
MAST , BW Geohydromatics (Indonesia) and ITB Bandung (Indonesia) can handle up to a maximum of 10 persons at one time. It could be that we have to offer alternative days in case we have no slots available. Early bookings will be recommended.Your place in the course is secured after full payment is received into our account..
Course Schedule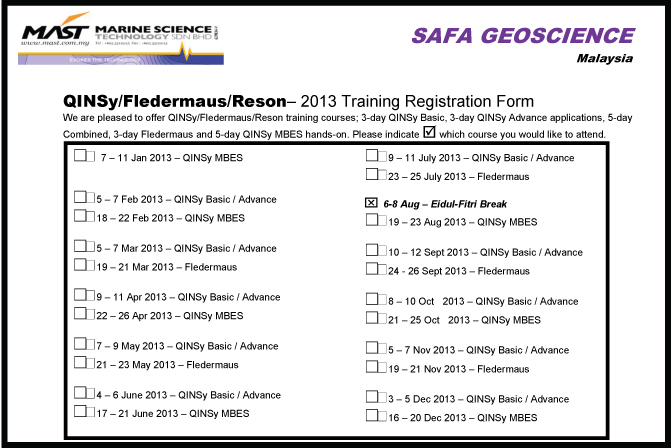 Coastal Observation & Modelling
The objectives of the short course are to exhibit current practices of coastal and nearshore studies, which involve hydrographic survey, met-ocean data acquisition, modelling of physical coastal processes and prediction of recurrence interval of extreme met-ocean parameters; to share hints and basic approach for designing and planning of coastal studies; and to facilitate discussion forum among tutors and participants.
Click Image for more detail